Keshwa HUMAN Welfare
Our commitment in India
In 2015, the founders of the German 'HUMAN Foundation' and the Indian organization 'Creation India Society' (CIS) signed a cooperation agreement. This was the start of child care in Robertsganj, Sonbhadra in Uttar Pradesh (UP), the second poorest state in India with a population of 200 million alone. Uttar Pradesh seen as a separate country would be one of the most populous countries in the world, but also one of the poorest.
In the meantime, our portfolio has grown significantly. We offer the following initiatives in India primarily for children, women and families in the poor areas. Overall, we established the program name "Keshwa Human Welfare" in 2022. We go into more detail on the individual initiatives at the respective locations. Some initiatives are offered at multiple locations.
The cooperation with the Creation India Society is very deep and over the years we have mastered many challenging situations together. Especially during the pandemic, which has brought us a number of cuts in the programs for a while, especially in India.
Another program is still in the application phase and focuses on supporting girls in Samastipur (Bihar).
EDUCATION
We run our own small integration school for children from poor families
24/7 - CHILD EMERGENCY AID
We take care of children in emergency situations "round the clock"
SKILL DEVELOPMENT
We train young people and women for various job opportunities
WOMEN EMPOWERMENT
We strengthen women's rights through advice and vocational trainings as a cross-sectional program
OUTREACH PROGRAM
We take care of less privileged people in small rural villages
DISABILITY WELFARE
We help disabled people and integrate children where possible and sensible
According to the UN Human Development Index from 2018 and the Indian state statistics derived from it, Uttar Pradesh and Bihar are at the bottom of the statistics. All of the people in our target groups suffer from insufficient basic infrastructure such as water, electricity and medical care, and from missing income opportunities. About a third of residents in Uttar Pradesh and Bihar are still illiterate.
Our locations are Varanasi, Robertsganj/Sonbhadra (both Uttar Pradesh) and Samastipur in Bihar. A detailed description of all projects can be downloaded as a pdf file (see download button).
Varanasi
Keshwa Skill Training Institute & Railway ChildLine
(Uttar Pradesh)
Varanasi is considered the city of the god Shiva Vishwanath ("Lord of the Universe") and one of the holiest sites in Hinduism. Believers have been making pilgrimages to the city for more than 2,500 years. 1.3 million inhabitants live in Varanasi and the city is populated by tourists.
Many people live on the streets and in very poor conditions. Children from poor families can be found in almost every part of the city. There are by far too few social institutions in the district to deal with all problem cases.
With Child Emergency and vocational training for women, we offer two focus programs.
We develop children from poor families in the long term and introduce women to the labor market, many of whom are self-employed.
"ChildLine Railway Banaras" lis the name of Child Emergency program we run in cooperation with Child-Line India. At the train station, we are looking for children and young people who have run away from home, are begging or are behaving in a conspicuous manner. They will be taken into care and a solution will be sought with the local authorities.

"Skill Development City and Village" are the two vocational training programs. The training courses are held at two locations in the city of Varanasi in the districts of Sigra and Lohatar and in the village of Bhohar outside of Varanasi. According to our licenses we can offer courses in tailoring (also fashion) and in the Beauty area.
Robertsganj / Sonbhadra
Keshwa Child Welfare Center
(Uttar Pradesh)
Robertsganj, located 80 kilometers south of Varanasi, is the capital of the district of Sonbhadra with 2.6 million inhabitants: 35% of them live below the poverty line, i.e. with about 35€ per capita and month.
At the end of 2017 we decided to build our own Keshwa Child Welfare Center.
As in all other rural areas in Uttar Pradesh and Bihar, the most important infrastructure components in Robertsganj are weak, such as electricity, water and medical care.
Many families only send one child to school and leave the other children to work or just stay at home.
Thanks to our first-class infrastructure with our Keshwa Child Welfare Center, we offer all programs in our portfolio. The local authorities are very supportive. We address children, women, disabled people and whole families in the neighboring villages and want to permanently change people's habits.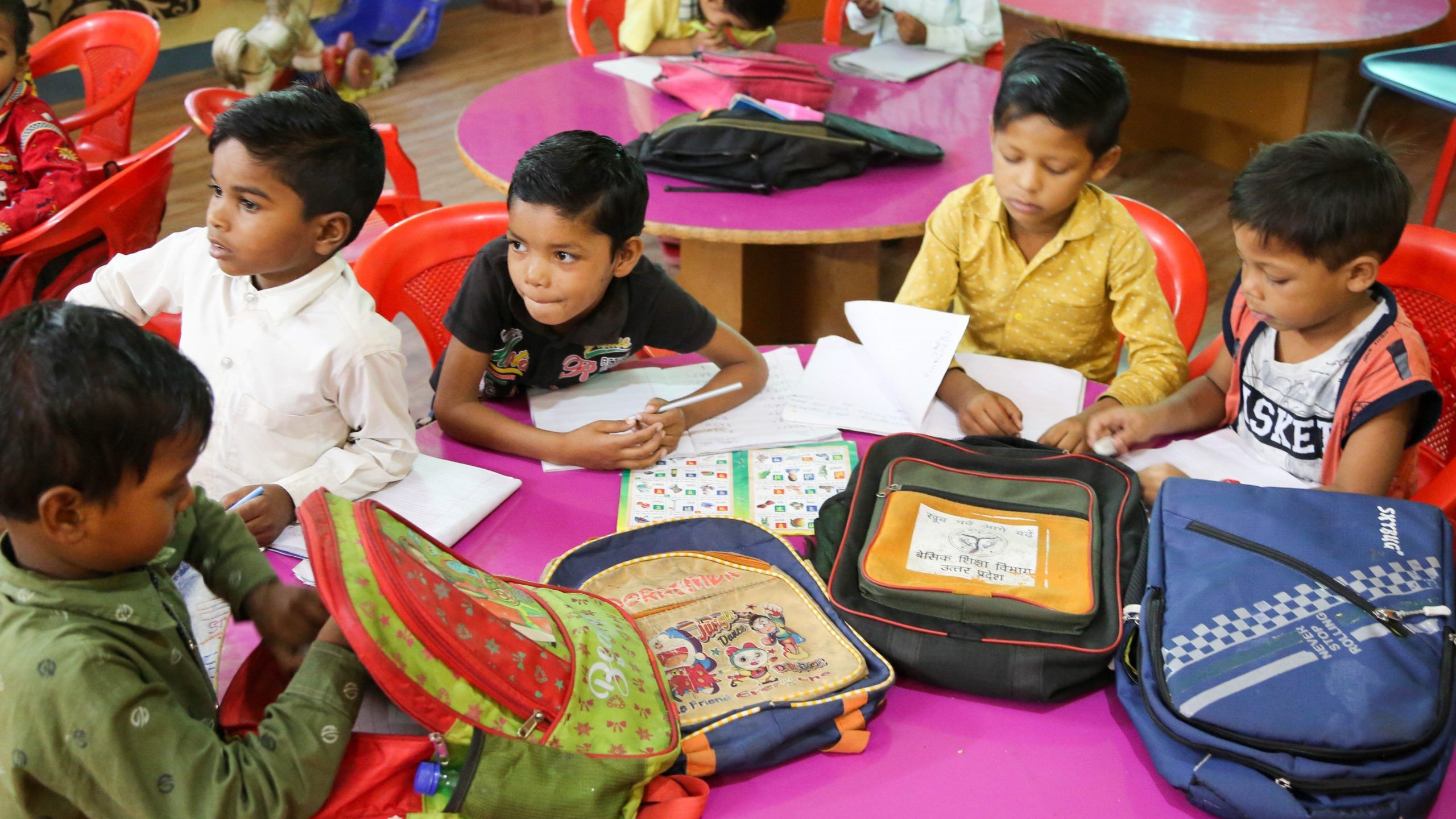 "KCWC Open Center Home" includes the daily care of 25 boys from poor families aged 6-10 years from 9 a.m. to 5 p.m. from Monday to Saturday, except on public holidays. We pick up the children from home to the center in the morning and start the day with a morning prayer.
The "Keshwa Gurukul School" opened in December 2021. The Sonbhadra government's education officer has asked if we can offer a special school program for children from poor areas. What are the concrete advantages of running a school in our center compared to a public elementary school?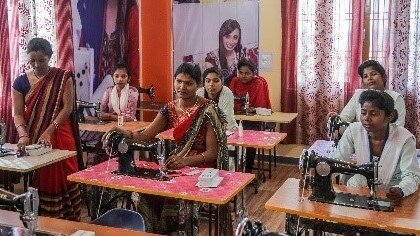 The "Vocational Training" is another program sponsored by the Government of India. We offer several training modules and established a "lab" for practical work and a classroom for each of our course modules. The skills program is mainly used by school leavers and young people.
The "Child Emergency" offers a 24-hour / 7-day hotline with rehabilitation activities and advice for emergencies. We are the first point of contact for these children in need. We are proud that the Indian government has granted our organization the license for children's relief in the district of Sonbhadra.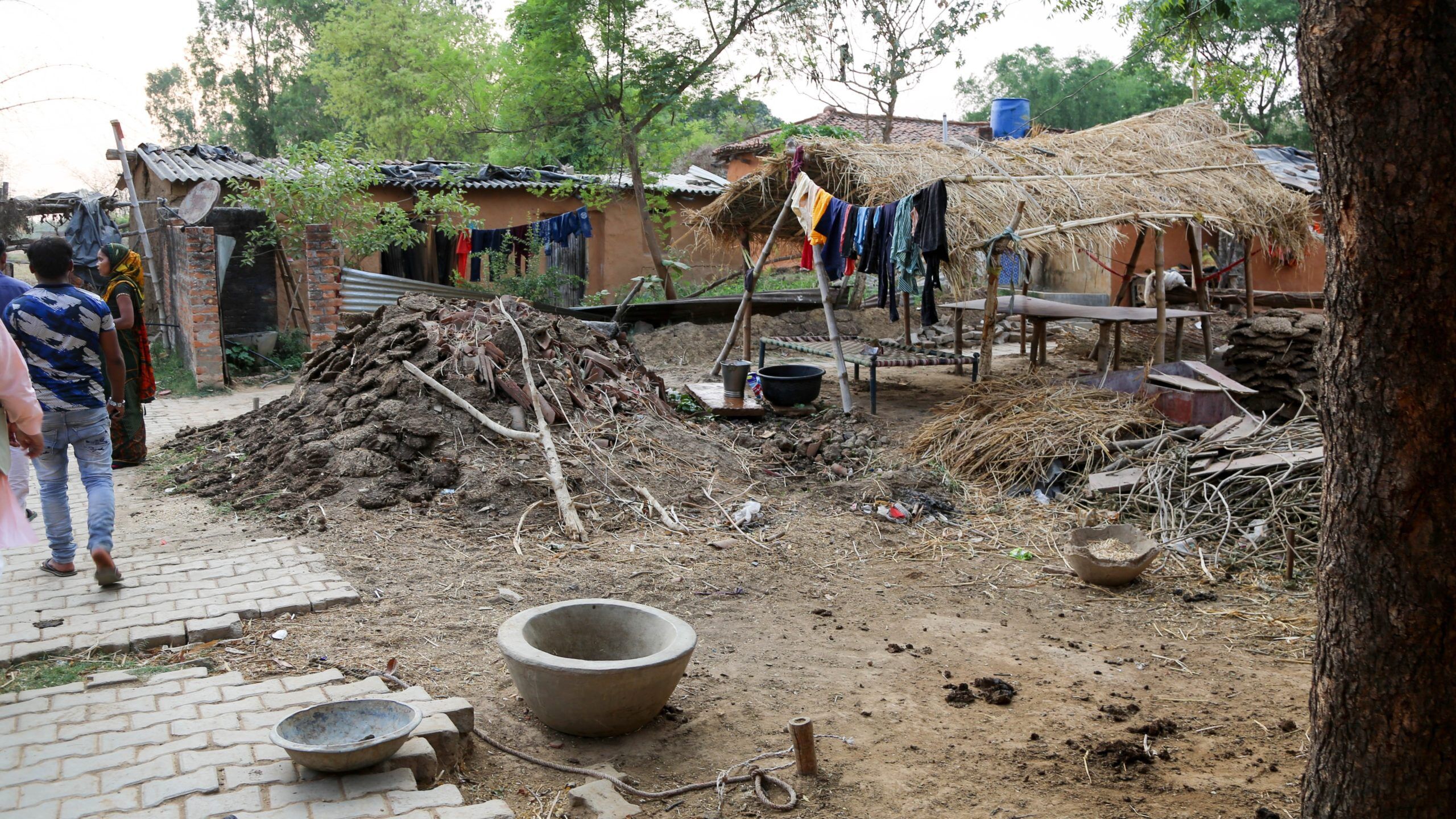 "Working with Disabled People" is another extensive program. People with disabilities can be found in almost all areas of life in rural India. The causes of disabilities are mostly poverty and poor health care. Those affected are very often dependent on themselves.
The "Outreach Program" is a program for the rural population. In Sonbhadra, in 1,441 villages, many people live in poverty. These people have limited education and are not "educated" to ask for support. We carry out investigations in families where help is needed.
Samastipur
Orphans Home & Railway ChildLine
(Bihar)
Bihar is considered the poorest and socio-economically underdeveloped state in India and is the third largest state in terms of population. Bihar's per capita income is only 1/3 of the overall Indian average.
The challenges are enormous, we can only cover a fraction of the problem cases. The threat scenarios for children are complex, and in Bihar there is also child trafficking. The population is affected by heavy monsoon rains every year.
Since 2015 we have been working in Samastipur with a small special program for some orphans. We are currently expanding our offer of emergency aid to more children, as there are hardly any other support programs in this region.
Similar to the program in Varanasi, the "CIS Railway ChildLine program" will care for children at Samastipur railway station. On one railway station platform we get provided a small booth from the Railway company, which is operated by our organization "24 hours a day" every day.
The "Orphans Home & Adoption" program has been running very successfully in Samastipur since 2016. Up to ten children live in rented rooms and are handed over to our organization by the "Child Welfare Committee". There is a kitchen, a bathroom, a playroom and dormitories.
The video "Keshwa HUMAN Welfare" shows all programs in India in detail in moving pictures.
Have fun with it!
Quotes from important Projectpartners
We provide extensive support for people from rural poor families and minorities. These people are far from having a good education. There are major deficits in health care and hygiene. We are talking about a part of society that is at great risk and in need of help. There are major challenges regarding the education of children, disabled children, unwanted children, poor children and child labour. We want to ensure lasting development and are looking for sustainable solutions.
In close cooperation with the HUMAN Foundation, we will master the major challenges. The development of women is particularly important to me.
I am very happy about the trusting cooperation with the HUMAN Foundation and the Creation India Society in Sonbhadra with the first-class infrastructure in the Keshwa Child Welfare Center.
It is an honor for me to work under the guidance of Human Foundation and CIS. For me, it is important to focus on educating children from a young age so that they do not drift into the "negative" part of society. Changing the mindset of the people who live in our society is a big challenge for me.
I am very happy that HUMAN Foundation and Creation India Society will run ChildLine Service in Sonbhadra and Varanasi for children at risk.
I look forward to a long term collaboration as Creation India Society is doing an excellent job in caring for disabled people supported by Human Foundation in Sonbhadra.
We are struggling with alcohol and cheap drugs in all the villages. We're trying to get into conversation with the young people to try to dissuade them.
School operations at our Keshwa Child Welfare...
read more